To book an appointment with a doctor/therapist for a video consultation, the procedure is almost the same as for a face-to-face appointment. Visit onedoc.ch, then find a healthcare professional:
by specialty and region (e.g. "general practitioner" in "Genève")
by name (e.g. "Dr. Brem")
by practice/institution (e.g. "Medical Center Acacias")
Practitioners who offer video consultations are signalized with the following phrase and icon on their profiles:

When selecting the type of consultation, choose the "Remote" option to book a video consultation with your doctor!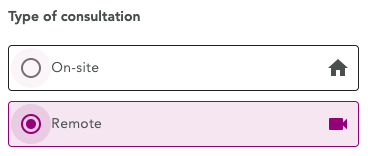 Once your appointment is confirmed, you will receive an appointment confirmation e-mail with detailed explanations for your consultation. 10 minutes before your consultation, a link will be sent to you and will allow you to reach the virtual consultation room from any device connected to the internet (smartphone, tablet, computer).